BLAZING SUN, BITTER WIND
Old Harry Rocks, Jurassic Coast, 24.3.2019, 155 x 165 cm, Acrylic on Canvas
This piece was painted on a day of extreme contrasts.
In sheltered areas there was a gloriously warm sun for a March day but on the edge of these cliffs the wind was really fierce and icy. The wind kept blowing the tripod over – many times I re-set it quickly enough that it didn't disturb the shot but after quite a few hours of exposure I had a headache and was feeling drained. There were also thousands of tourists milling past. I persevered and am pleased with the result. 
Another challenge was the ebbing tide – I was initially drawn to the beautiful milky turquoise sea which surrounded the base of the island, however the longer I painted the more of this colourful tide receded exposing a pebbly beach. The final painting is a durational study which captures and juxtaposes the changing tide, beach and shadows on the rock faces in one image.
Video showing the process of making this painting: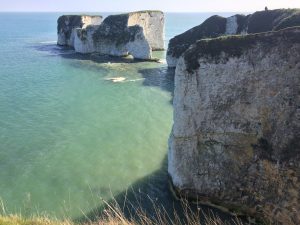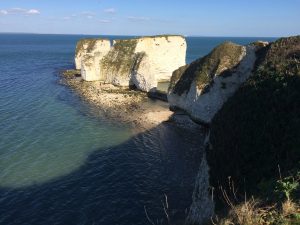 If you would like to buy a limited edition giclee print of this piece please click on this link.