DEVON OPEN STUDIOS 2012 – 2013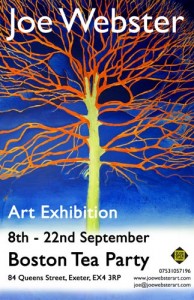 Joe Webster's art works are ephemeral illustrations of the undulations of the seasons. His landscapes capture the colour, changing climate, lattice-works of fields and structures of growth in our surroundings. Joe Webster represents the joyous celebration of seasonal changes through the grand details as shown in colour and shape, but also the minutiae, showing its textures and fine detail. The work captures the moods of the landscapes in a visual sense.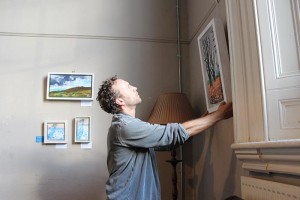 I am interested in the dramatic water and light display of our climate. Touching our living world and experiencing solitude within nature, weather patterns playfully interrupt expectations. Climatic effects on paint literally become a medium to carry, translate and capture experience in the location. Unexpected challenges are exhilarating, and fragile, watching the canvas come alive adapting to and translating its location whilst poised to protect it from destruction.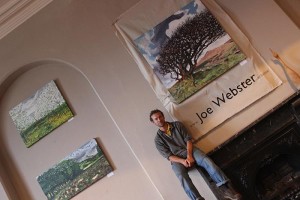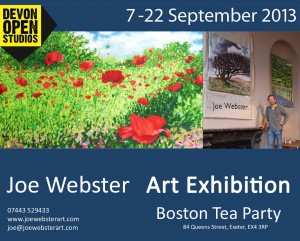 Joes approach offers and encourages paint to adapt to its environment as mist or rain drips into or washes it away, directing the outcome of the work. Canvas and world meet as sun rapidly dries marks as they land, or snow and ice freeze, crust and crack watery mixes into the work. The transitory world of light, water and growth is balanced with permanence and solidity in forms such as rocks and trees. Still marks standing amongst changing environments in living dynamic motion.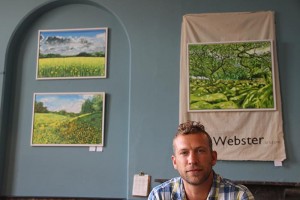 Joe studied with Carole Vincent at Falmouth College of Arts and Nottingham Trent University. He exhibits in Portugal and the South West of England drawing inspiration from the bleak landscape of Dartmoor and the Atlantic coastline, through to the light, colour and climate of Portugal and Australia. He currently lives on Dartmoor where he is teaching and a practicing artist.